Campus Information
1313 West Robinhood Drive, Suite B
Stockton CA 95207
(209) 676-3341
Campus Hours
Mon-Thu 7:30AM – 10:30PM
Friday 8:00AM – 5:00PM
Admissions Hours
Mon-Thu 9:00AM – 7:00PM
Friday 8:00AM – 5:00PM
Medical & Dental Programs
Veterinary Programs
Do you love caring for animals and working with their owners? A career in veterinary technology may be a good fit for you. Veterinary technicians help care for animals during routine or emergency visits, maintain animal medical records, and help in other ways when needed. Our Veterinary Technology program in Stockton includes hands-on training with a focus on companion animals.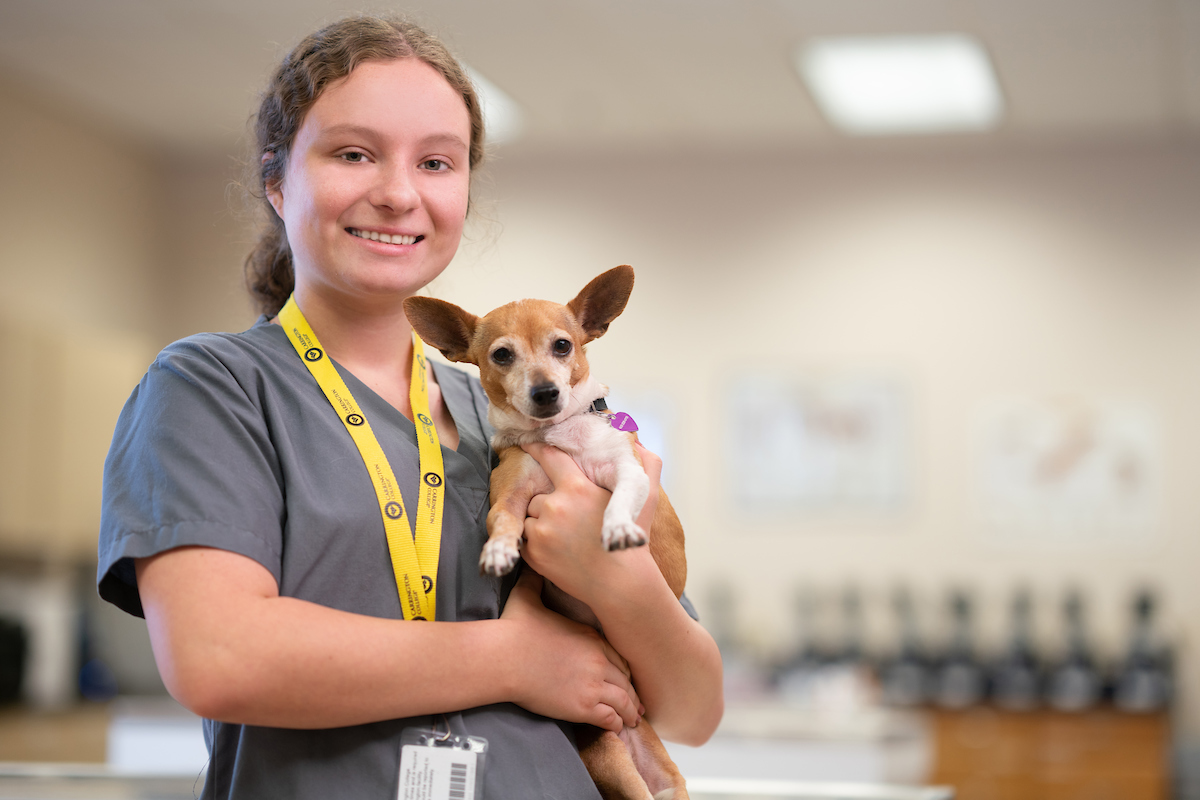 Train for a career at Carrington College
Stockton Campus' Career-Preparation Programs
Easy Student Access
Carrington College's Stockton campus provides hands-on training in a number of medical and professional programs in California. Carrington College's Stockton campus is located just east of I-5 and 10 minutes north of downtown Stockton. Local public transit is available to take you to nearby places and bring you back to our campus.
Modern Facilities
The campus includes classrooms and labs with ceiling‐mounted LCD projectors and a learning laboratory. The facilities also include a combined computer lab, student success center and learning lab equipped with reference materials, textbooks and journals. The Carrington library website also offers online resources and professional organization information.
Classrooms Geared for Learning
The campus provides a professional veterinary technology surgery lab and 12 lecture/laboratory classrooms. There is a student break room, a staff lounge and a student finance kiosk station.
A Genuine College Experience
At the Carrington College Stockton campus, you can enjoy a small college experience where you can get the attention you deserve. Here, your instructor will not only know you by name, but they can also get to know you as a person. You will know what to expect from your career in the real world because many of our instructors bring practical working experience from their field into the classroom.
"My top priority as the Campus Director for the Stockton Campus is helping students successfully achieve their educational goals and find employment in their career field. I strive to create a campus culture that empowers our students and provides colleagues with feelings of pride and happiness. My passion is providing positive motivation for all students and colleagues as we work together overcoming our challenges and achieving success!"