Campus Information
5883 Rue Ferrari, Suite 125
San Jose CA 95138
(408) 337-3534
Campus Hours
Mon-Thu 8:00AM – 10:30PM
Friday 8:00AM – 5:00PM
Admissions Hours
Mon-Thu 9:00AM – 7:00PM
Friday 8:00AM – 5:00PM
Dental Hygiene Clinic Hours
Learn More About Our Free Dental Hygiene Clinic
Mon-Thu 8:00 AM – 4:30 PM*
*Appointment times may vary, please contact the clinic for more information.
Medical & Dental Programs
Veterinary Programs
For those with a heart for animals, a career in veterinary technology seems like a perfect fit. Vet techs help veterinarians with caring for animals and may draw blood, check vitals, administer medications, and communicate with an animal's owner. Vet techs may work with domestic animals like dogs and cats, small animals like rabbits and mice, or even wildlife. Carrington's Veterinary Technology program in San Jose can be completed in as little as 19 months. Graduates to sit for the Veterinary Technician National Examination.*
*Carrington College prepares students to take appropriate certification and licensure exams related to their individual majors. The College does not guarantee students will successfully pass these exams or be certified or licensed as a result of completing the program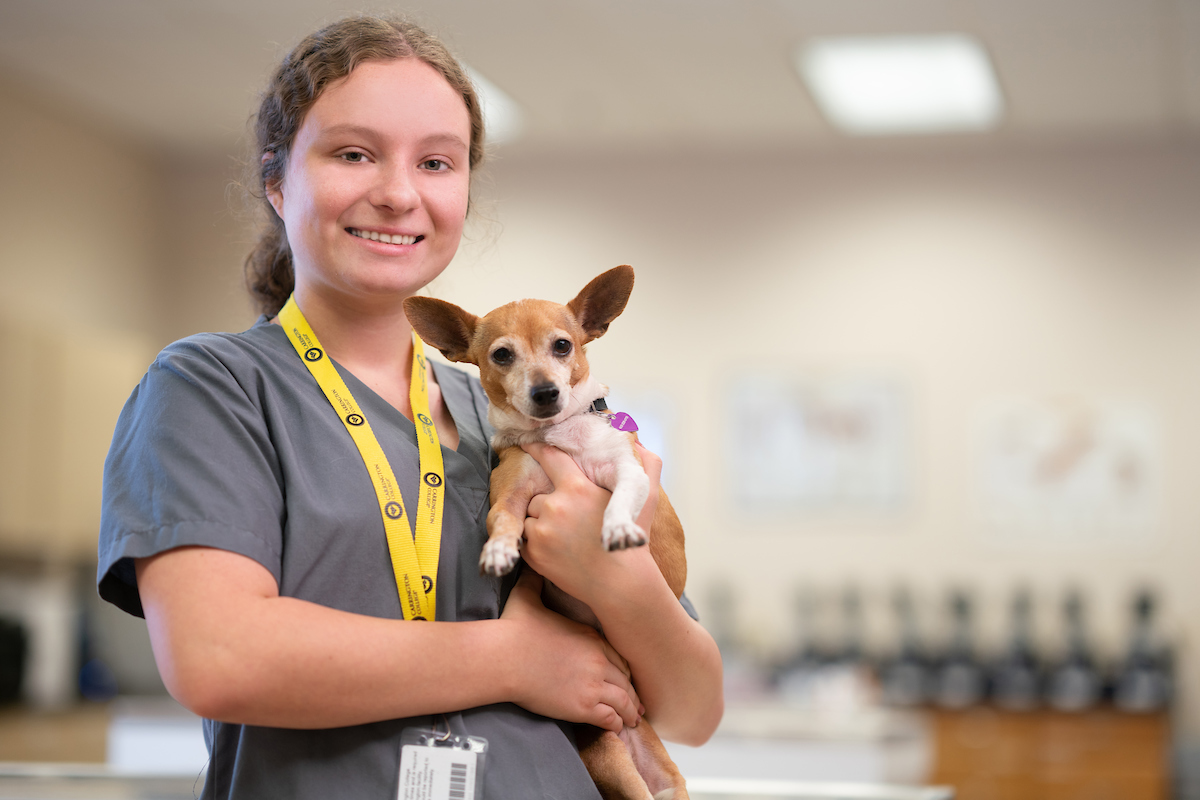 Train for a career at Carrington College
San Jose Campus' Career-Preparation Programs
Easy Student Access
Carrington College's San Jose college campus provides hands-on training in a number of medical programs in California. Carrington College's San Jose campus is centrally located just east of the 101 and north of CA SR-85. Just take the Silicon Valley Blvd exit north off the 101 to Rue Ferrari. Turn left on Rue Ferrari and you're there!
Modern Facilities
Our 48,800-square-foot San Jose college campus includes classrooms with ceiling‐mounted LCD projectors, a student success center equipped with reference materials, textbooks and journals, a learning laboratory and a dedicated computer laboratory.
Classrooms Geared for Learning
The facilities also include a 24‐chair dental hygiene clinic, a six‐chair radiology lab, a four‐chair dental assisting lab, an eight‐bed vocational nursing lab, a professional veterinary technology surgery lab and surgical technology lab, a medical billing and coding lab, and 20 lecture/laboratories.
A Genuine College Experience
Between classes, there are plenty of resources and places to study. The San Jose college campus has a student lounge, a staff copy center, a staff lounge and student finance kiosks. The campus has 23 administrative offices offering a variety of student services including enrollment services, career services, and student finance.
"Creating a campus culture that supports and promotes satisfied, successful and job ready students has and always will be my priority.  Campus leadership is my passion and getting to know students and helping them reach their potential is what drives me.  It is all about the campus and the people – staff, faculty, and students – that is why I love coming to work every day."