Campus Information
1001 W. Southern Ave., Suite 130
Mesa AZ 85210
(480) 734-2378
Campus Hours
Mon-Thu 7:00 AM – 10:00 PM, Fri 7:00 AM – 5:00 PM, Sat 9:00 AM – 1:00 PM
Admissions Hours
Mon-Thu 9:00 AM – 7:00 PM, Fri 8:00 AM – 5:00 PM
Dental Hygiene Clinic Hours
Learn More About Our Free Dental Hygiene Clinic
Mon-Thu 8:00 AM – 4:30 PM*
*Appointment times may vary, please contact the clinic for more information.
Medical & Dental Programs
Veterinary Programs
Veterinary assistants help care for animals, helping veterinarians and veterinary technicians. They may bathe or feed animals, help with examinations, and provide first aid. Veterinary assistants care for animals large and small, from dogs and cats to rabbits to horses, depending on the setting in which they work. Prepare for a career in veterinary medicine in as few as 9 months with our Veterinary Assisting program in Mesa.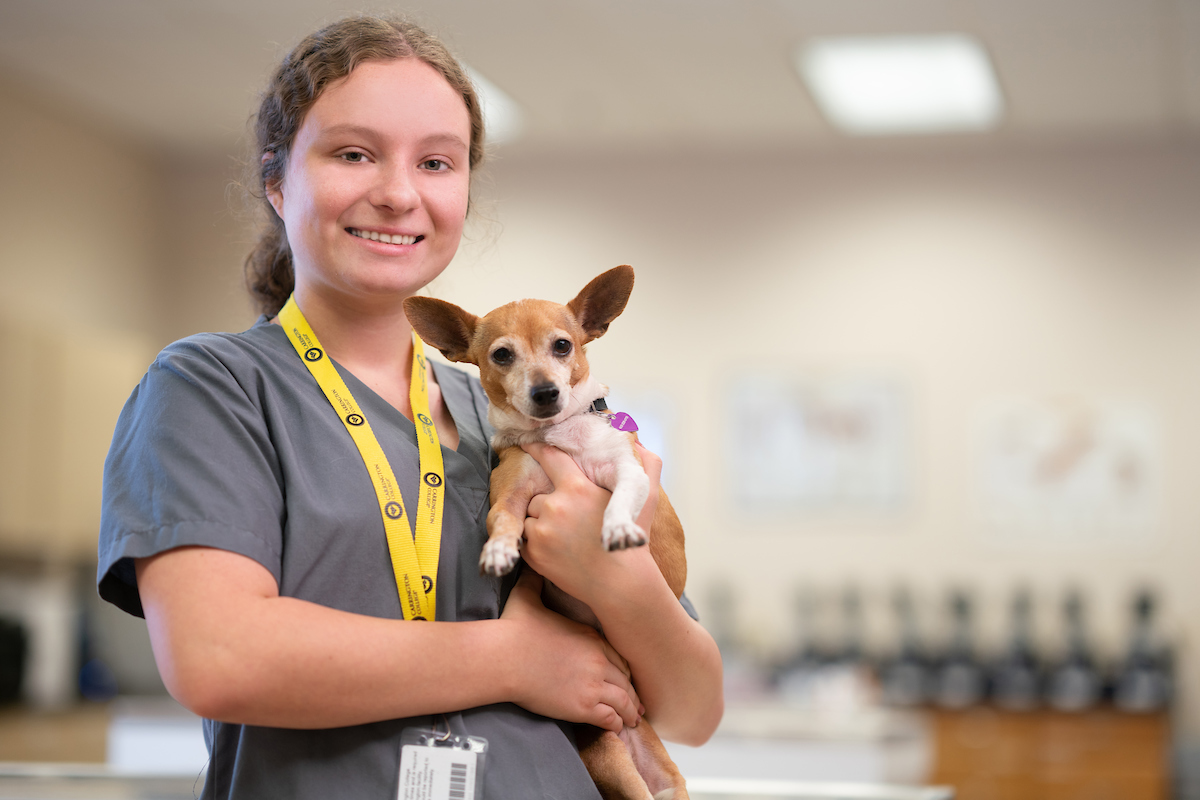 What is the Carrington College Mesa Campus Like?
Mesa Campus' Career-Preparation Programs
Easy Student Access
The Carrington College Mesa campus includes two buildings, both within walking distance of each other. You'll find us close to the Fiesta Mall, near the corner of Southern and Alma School. Access points to the Superstition Freeway make it an ideal location for our busy students, who can shop or eat nearby during study breaks.
Modern Facilities
With over 58,000 square feet of space, the campus provides a diverse learning environment designed to give students valuable hands-on training in realistic settings. The campus features a simulation theater equipped with high-tech Meti Human Patient Simulators, viewing systems, and simulation programming capabilities. In addition to the simulation lab, the campus offers a modern dental hygiene clinic that is open to the public, helping the surrounding community with low-cost dental care.
Classrooms Geared for Learning
At the Carrington College Mesa campus, you can enjoy a small college experience where you can get the attention you deserve. Here, your instructor will not only know you by name, but they can also get to know you as a person. You will know what to expect from your career in the real world because many of our instructors bring practical working experience from their field into the classroom.
"My professional motivation lies in assisting folks reach their career aspirations. I am honored to guide the Mesa campus in making a positive impact in the community by delivering a top-tier workforce for the health care industry in the Valley of the Sun."