Campus Information
6751 N. Sunset Blvd., Suite #330
Glendale AZ 85305
(602) 281-1215
Campus Hours
Mon-Fri 8:30AM – 5:00PM
Admissions Hours
Mon-Fri 8:30AM – 5:00PM
Medical & Dental Programs
Earn a certificate of achievement and prepare to enter the workforce as a medical assistant in as few as 9 months with our Medical Assisting program in Glendale. Medical assistants work with physicians and nurses, completing a variety of tasks including front-office work and patient care.
A sample of medical assisting classes at Carrington College includes:
MA Administration Theory 1 — This course provides theory in the following areas: telephone techniques, oral communication, verbal follow-up, written follow-up, managing and maintaining the office, computers, appointments, records and filing, patient education, legal issues, and biomedical ethics.
MA Clinical Applications 1 — This course provides concepts and entry-level skill applications for the following procedures: vitals including height, weight and vision screening, aseptic handwashing, lab safety, microscopes, venipuncture, injections (parenteral medications), ABO/RH typing, capillary puncture, hemoglobin, hematocrit, glucose, urinalysis, audiometer, and electrocardiography
In as few as 9 months, you can prepare to work in dental offices after completing our Dental Assisting certificate program in Glendale. Dental Assisting students learn subjects ranging from the anatomy of the head and mouth to sterilization techniques to front-office operations. Students' progress to learning specific skills and building their understanding of dental procedures performed in dental offices. Our instructors have years of experience working in real dental offices and as students near the end of their studies, they have the opportunity to gain real-world experience during an externship.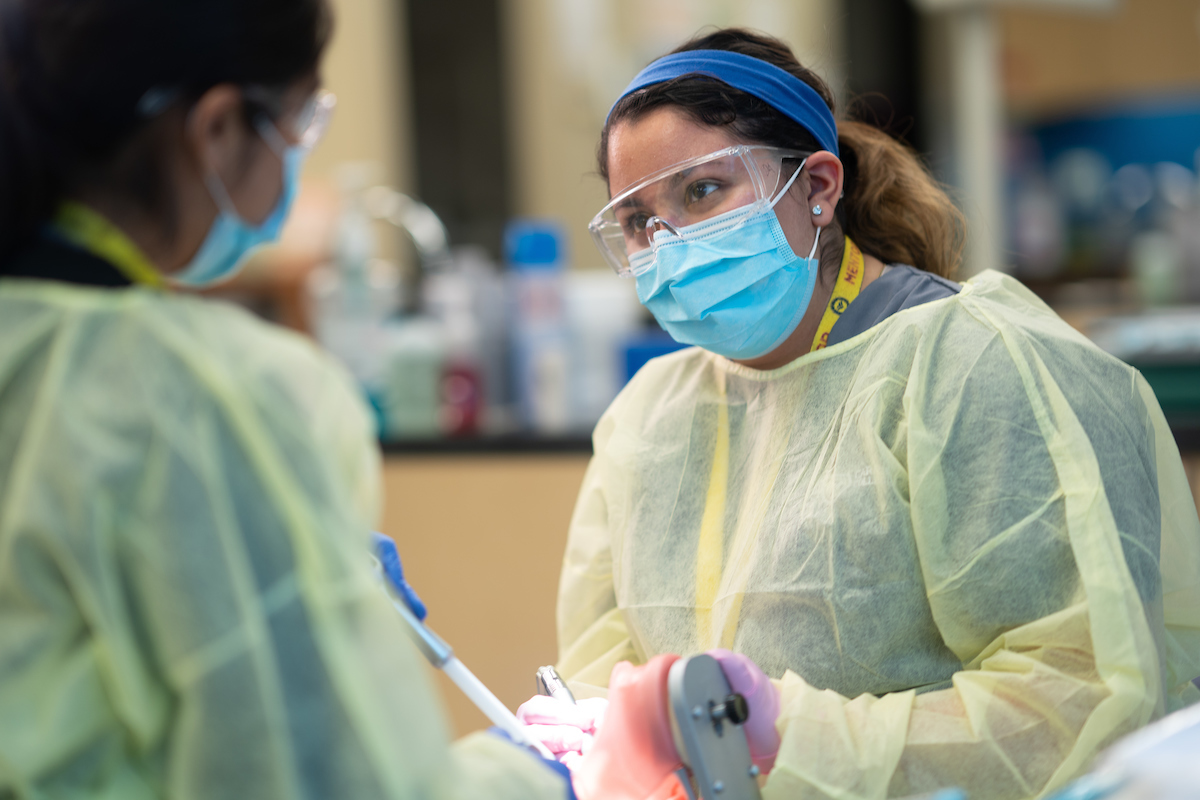 For patients and doctors, navigating the insurance billing process is an important part of getting care. Patients rely on their insurers to pay for treatment and physicians need to get paid. Medical secretaries help manage these claims to make sure the healthcare system moves smoothly. Students in the Medical Billing and Coding program in Glendale learn about medical insurance, medical ethics, confidentiality practices, and the life cycle of an insurance claim, as well as how to translate illnesses and treatments into standardized codes like International Disease Classification 10th revision (ICD-10). This program can be completed in as few as 9 months.
*This program is available in a Blended Online Format.
What is the Carrington College Glendale Learning Center Like?
Glendale Learning Center's Career-Preparation Programs
Easy Student Access
Carrington Glendale community college provides hands-on training in a number of medical and dental programs in Central Arizona. The Carrington College Glendale Learning Center is at the Westgate City Center, right along major bus routes, which makes getting to class really easy! Just hop off at the 95th Avenue and Coyotes Boulevard stop.
Modern Facilities
The campus provides modern practical labs to support the laboratory component of coursework. With three dental assisting operatories and three medical assisting bays, the Glendale Learning Center offers plenty of hands-on space for student practice and participation.
Classrooms Geared for Learning
At Carrington College's Glendale community college, you can enjoy a small college experience where you can get the attention you deserve. Here, your instructor will not only know you by name, but they can also get to know you as a person. You will know what to expect from your career in the real world because many of our instructors bring practical working experience from their field into the classroom.