Campus Information
2149 W Dunlap Ave, Ste 100
Phoenix AZ 85021
(602) 313-7082
Campus Hours
Mon-Thu 8:00AM – 10:00PM
Friday 8:00AM – 5:00PM
Saturday limited hours
Admissions Hours
Mon-Thu 9:00AM – 7:00PM
Friday 8:00AM – 5:00PM
Medical and Dental Programs
Veterinary Programs
Veterinary assistants work with vet techs and veterinarians to help care for animals. At Carrington's Veterinary Assisting program in Phoenix you'll learn the skills you need to prepare for a job in veterinary medicine. Enjoy working with animals large and small in as little as nine months.
Trades & Industrial Programs
Electricians help with everything from new construction to home repairs and can be self-employed or part of a larger institution. Consider Carrington College's Electrical Technology program in Phoenix. You can earn hands-on experience and a certificate of achievement in as little as 10 months.
With Phoenix's soaring summer temperatures, there's nothing more important than air conditioning. Heating, ventilation, air conditioning, and refrigeration technicians help repair and install a variety of heating and cooling systems in both residential and commercial buildings. Carrington College's HVAC-R program in Phoenix can be completed in as little as 10 months.
Students in Carrington's Maintenance Technician program in Phoenix will study and master the basic principles, applications, concepts, and functions of hydraulic systems, bearing and seal types, and power transmission components. With Carrington College's hands-on approach to training, graduates are prepared to work in a variety of commercial and manufacturing settings as a Maintenance Technician, Maintenance Mechanic, Machine Repairer, Facilities Maintenance Technician, and Building Maintenance Mechanic.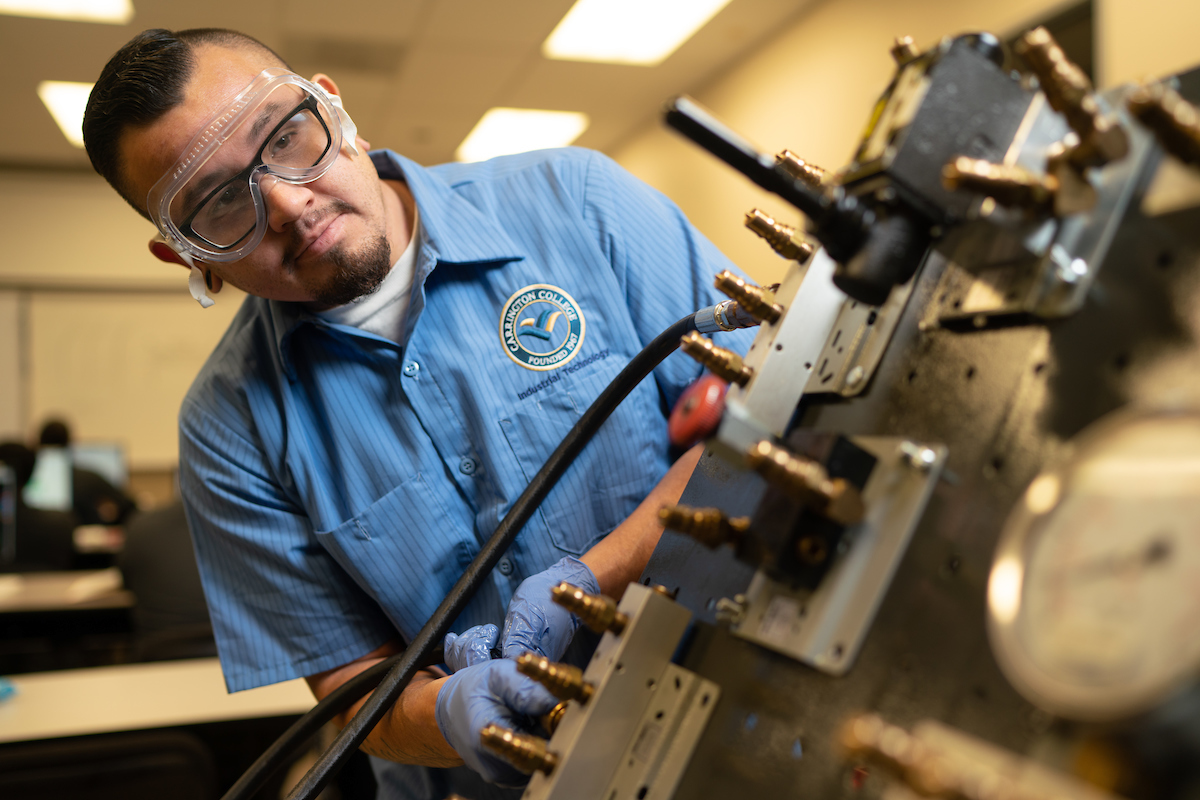 What is the Carrington College Phoenix Campus Like?
Phoenix Campus' Career-Preparation Programs
Easy Student Access
Carrington College's Phoenix campus provides hands-on training in a number of medical and professional programs in Central Arizona. Our Phoenix campus is centrally located just east of the Black Canyon Freeway. We're located on Dunlap Avenue, east of 23rd Avenue.
Modern Facilities
Carrington's Phoenix Campus shares a 120,000-square-foot space with another accredited institution. Carrington College Phoenix students have access to the student success center, computer labs, a cafeteria and two student lounges. The Phoenix campus provides students with a simulation retail pharmacy laboratory.
Classrooms Geared for Learning
The Phoenix campus also has modern lecture classrooms with ceiling-mounted LCD projectors, a learning laboratory, science labs and a medical library equipped with reference materials, textbooks and journals. The Carrington library website offers online resources and professional organization information.
A Genuine College Experience
At Carrington's Phoenix campus, you can enjoy a small college experience where you can get the attention you deserve. Here, your instructor will not only know you by name, but they can also get to know you as a person. You will know what to expect from your career in the real world because many of our instructors bring practical working experience from their field into the classroom.