What Is an HVAC Technician?
An HVAC-R technician ensures heating, ventilation, air conditioning and refrigeration systems function properly. They work in homes, schools, offices, factories, hospitals and other buildings. Some choose to specialize in one or more areas of HVAC-R, such as heating systems, commercial refrigeration, testing and balancing, or solar panels.1
When comparing an HVAC installer vs. HVAC technician, the two have slightly different roles. HVAC installers focus on installing HVAC systems and wiring, while an HVAC technician focuses more on the maintenance, repair and cleaning of HVAC systems. Some people compare HVAC installer vs. technician careers and choose to specialize in one. However, depending on your HVAC training and career path, your role may include a mix of installation and maintenance duties. 
What Does an HVAC Technician Do?
Heating, air conditioning, and refrigeration mechanics and installers—often called HVACR technicians— work on heating, ventilation, cooling, and refrigeration systems. They may work in tight spaces and extremely hot or cold environments because of the broken heating or cooling systems they're fixing.1 It's also common for these technicians to work overtime or irregular hours during heating and cooling seasons, the Bureau of Labor Statistics (BLS) reports.2
According to the BLS and O*NET Online, some common HVAC technician job duties include:3 4
Install HVAC-R systems, wiring, and electrical elements

Maintain HVAC-R systems

Clean ducts, change filters, and refill refrigerant 

Repair or replace old or broken parts

Test and inspect HVAC-R systems

Check pipes for leaks

Evaluate electrical parts of HVAC-R systems 

Maintain records of work performed

Recommend maintenance efforts to better HVAC-R performance

Sell maintenance service contracts to clients

Follow refrigerant conservation and recycling regulations 
HVAC-R technicians also troubleshoot repairs and maintain commercial refrigerators, freezers, and ice machines. 
HVAC-R technicians may work with other individuals to install and maintain heating and cooling systems. Especially for large projects, they may work with sheet metal workers, electricians, boilermakers, and/or plumbers and pipefitters.3
Start Your Career as HVAC Technician
Carrington College focuses on small class sizes and hands-on training. Here you're more than a face in a room. Take the first step on your way to a new career as HVAC Technician.
Why Become an HVAC Technician?
Heating, Air Conditioning, and Refrigeration Mechanics and Installers have a positive job outlook.5 The BLS notes that construction of commercial and residential buildings will likely drive the growth of HVAC technician jobs. The increasing number of climate-control systems and focus on energy efficiency may also increase demand for HVAC technicians.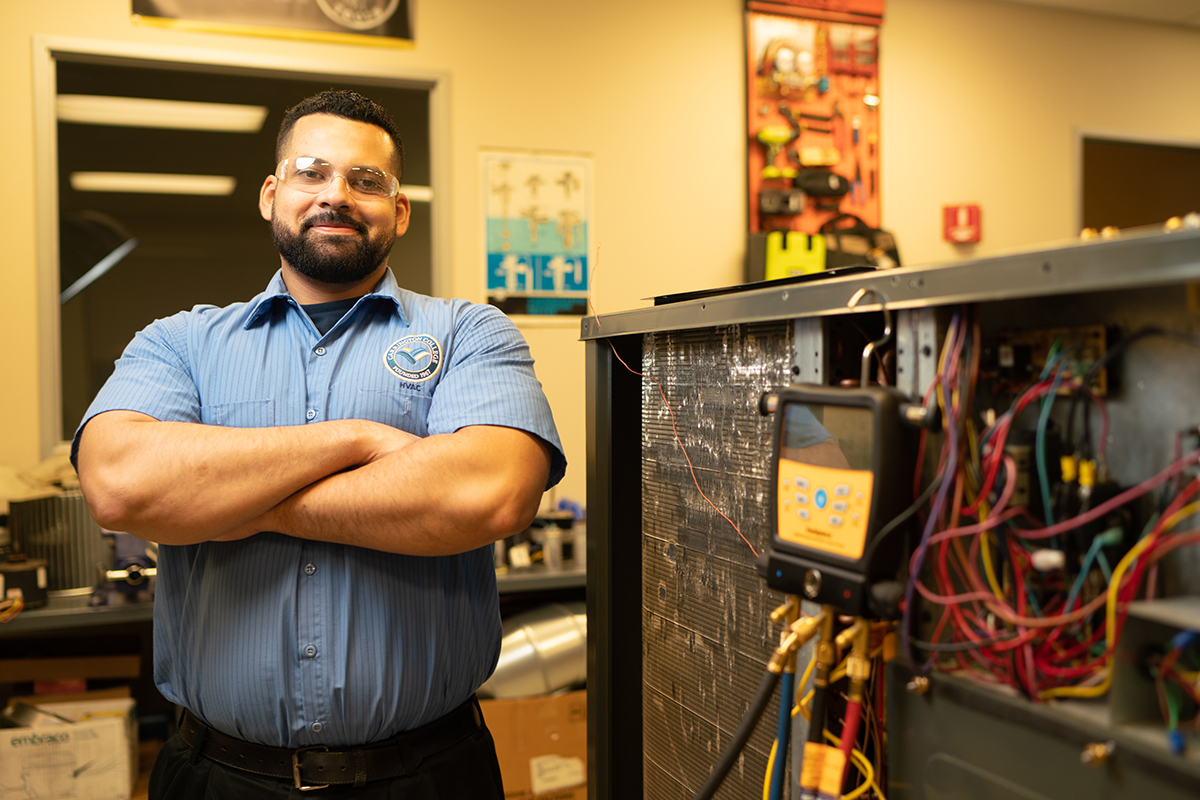 Best States To Work as an HVAC Technician
Another notable factor affecting an HVAC technician's pay is location. Where you work impacts the availability of jobs and your HVAC salary.
Below are the states with the highest level of employment for heating, air conditioning, and refrigeration mechanics and installers, as reported by the BLS in May 2020.6
| | | |
| --- | --- | --- |
| State | Employment | Employment per thousand jobs |
| Florida | 33,210 | 3.93 |
| California | 32,410 | 1.97 |
| Texas | 28,010 | 2.31 |
| New York | 16,730 | 1.93 |
| Pennsylvania | 14,900 | 2.70 |
How to Become an HVAC-R Technician
Though everyone's career path looks a little different, below are four steps to become an HVAC technician.
Do I Need to Do an HVAC Apprenticeship?
No, you don't need an apprenticeship—but you do need training and experience. Some people choose to complete an apprenticeship to gain the necessary HVAC training and experience. HVAC apprenticeships typically last three to five years and are sponsored by groups such as unions and contractor associations, the BLS reports.7
Do I Need to Join a Union to Work in HVAC?
No, you don't need to join a union to work in HVAC. However, joining a union is an option. According to Union Plus, a non-profit committed to providing valuable benefits to union members, the main benefit of joining a union is having representation when it comes to your pay, hours, benefits and workplace safety.8 If you're interested in joining an HVAC union, search for unions in your area.
Are There Any HVAC Certifications? 
If you're handling refrigerants, you'll need to earn a Section 608 Technician Certification through the EPA. Which certification you earn depends on the type of work you plan to do. For example, the EPA offers four Section 608 Technician Certifications:9
Type I:

for working on small appliances

Type II:

for working on high-pressure and very high-pressure appliances

Type III:

for working on low-pressure appliances

Universal:

for working on all types of equipment; you have Type 1, Type II and Type III certifications 
Other HVAC technician certifications you may consider are offered through the North American Technical Excellence (NATE) and ESCO Group's HVAC Excellence. 
NATE offers four HVAC technician certifications depending on how much experience you have:10
Ready-to-Work Certificate

HVAC Support Technician Certificate

NATE Certification: Core & Specialty Tests

Senior Level Efficiency Analyst Certification
Similarly, HVAC Excellence offers Employment Ready Certifications, Professional Level Technician Certifications and Master Specialist Certifications.11 
What Skills Should I Have?
In addition to HVAC-R knowledge, there are other skills that can help you succeed in HVAC technician jobs. According to the BLS, below are some important skills for HVAC technicians to have.7
Customer service:

As an HVAC technician, you'll often work in customers' homes and businesses, so it's important to be polite and punctual. You'll also have to deal with upset customers from time to time.

Attention to detail:

HVAC technicians need to keep detailed records of the work they've performed—including what was done, how long it took, and what equipment and parts were used.

Math skills:

You'll need math skills to calculate accurate load requirements so HVAC-R equipment heats or cools properly.

Time management:

HVAC technicians should be able to stay on schedule and complete the necessary work as they respond to daily maintenance calls. 

Physical strength and stamina:

HVAC technicians need the strength and stamina to meet the physical demands of their job. They may lift heavy equipment and spend a lot of time on their feet during work hours.

Problem solving:

As an HVAC technician, you must spot problems in HVAC-R systems and determine the best way to fix them. Problem solving skills are a must.
Discover Your Career as HVAC Technician
Carrington College's HVAC Technician offers you the hands-on training you need for a job in HVAC. Take the first step on your way to a new career.
Where Can I Work as an HVAC Technician?
You can work in many settings as an HVAC technician. As previously mentioned, many HVAC technicians install and maintain HVAC systems in homes, schools, offices, factories, hospitals and other buildings. For some HVAC technicians jobs, you'll stay on one jobsite all day; for others, you'll travel to multiple job sites throughout the day. Job sites may be indoors or outdoors. 
There are many ways to find HVAC technician jobs. You may work for an HVAC or contracting company, join a union, or become self-employed and start your own HVAC business.
Consider reading HVAC technician job descriptions to see what types of jobs interest you. 
According to the BLS, the largest employers of heating, air conditioning, and refrigeration mechanics and installers
 in 2020 were:12 
Plumbing, heating, and AC contractors

—

66%

Self-employed individuals

— 9

%

Wholesale trade— 4%

State, local, and private educational services— 3%

Retail trade

—

3%
How Should I Choose HVAC Technician Training?
Choosing the right HVAC technician training for you is an important decision. When searching for HVAC training, you may consider attending an HVAC school or completing an HVAC apprenticeship. Below are some factors to consider when choosing the right HVAC training program for you.
Curriculum:

Whether you're comparing HVAC technician schools or apprenticeships, curriculum is key. Are installation procedures, electrical concepts, and critical thinking skills prioritized in the curriculum? Make sure the program will teach you foundational skills in installing, repairing, and maintaining HVAC systems. 

Hands-on training:

Gaining hands-on experience is an important part of HVAC technician training. In addition to HVAC training classes, does the program offer opportunities for hands-on training alongside skilled professionals?

Cost:

HVAC training is a substantial investment of your time and money—but it's an important one. If you're considering HVAC schools, ask about financial aid opportunities to offset the cost of education. At Carrington College, we participate in many state and federal financial assistance programs.

Student finance options

such as loans, grants and scholarships are available to those who qualify.

Duration:

How quickly do you want to complete an HVAC training program? Depending on your goals, program duration may be an important factor to consider.  Finishing HVAC technician school typically takes less time than completing an HVAC apprenticeship. According to the BLS, postsecondary training or certificate programs may take 6 months to two years to complete, while apprenticeships take three to five years to complete.

4
Can I Study HVAC Training Online?
You can learn some aspects of HVAC training online, but this is a hands-on career. Once you learn about heating, ventilation, air conditioning, and refrigeration concepts, it's important to apply your knowledge through real-world experience. 
What Will I Learn in the HVAC-R Program at Carrington College?
In Carrington College's HVAC-R program, you'll learn about the operation, maintenance, and repair of residential and commercial HVAC-R equipment. You'll develop the skills to use basic trade tools, create reports, interpret wiring diagrams and more. Carrington's HVAC-R program also prepares you to earn a Section 608 Technician Certification through the EPA. 
The program consists of 40 semester credit hours, and our HVAC training classes focus on the theories and applications of air conditioning, refrigeration and electricity. Below are a few examples of courses you'd take at Carrington College.
HVACR 101 Theory and Applications of Refrigeration:

This course introduces, discusses, and practices the physical laws of matter, heat transfer, gas laws and equations, pressure and temperature conversions, refrigerants and refrigerant recovery-recycle-reclaim methods and equipment. The refrigeration cycle, basic refrigerating systems and applications, codes, installation, safety practices, and EPA information are topics covered in this course. This course discusses and applies the principles of theory and fundamentals to problem analysis and diagnostics for residential, light commercial, and commercial refrigeration systems. Students will practice the basics of brazing. 

HVACR 103 Advanced Air Conditioning:

This course applies pictorial and schematic wiring diagrams, interpretation and various techniques for problem analysis and troubleshooting of air conditioning and heating units. Students will work with gas and propane furnaces, refrigerant recovery/recycle practices, proper evacuation procedures, major component replacement and brazing techniques, leak testing methods, system charging procedures, system performance analysis, problem analysis, diagnostics and repair procedures for heating and air conditioning systems including heat pumps. 
HVACR 105 Advanced Electricity: This course applies pictorial and schematic wiring diagrams, interpretation, problem analysis and the application of diagnostic troubleshooting techniques for domestic and light commercial refrigeration and air conditioning circuits.
Learn More About HVAC-R Training at Carrington College
The HVAC-R program at Carrington College provides you with the skills and hands-on training necessary for a career in the heating and cooling industry. If you're ready to prepare for HVAC technician jobs, you can earn an HVAC-R certificate at our Trades Education Center in Phoenix.
Learn more about our HVAC-R training program, and request more information today.