For those interested in joining the fast-paced world of a medical office without the years and years of training medical school would require, medical assisting can be a good career option. A medical assistant plays a vital role in many medical offices, hospitals and outpatient care centers.
Medical assistants help patients and physicians throughout a medical office or clinic. They combine interesting medical work, such as taking vitals or administering medication, with day-to-day tasks of a medical office, such as scheduling appointments or completing clerical work.
Whether working in medicine has been a long-held dream, or you're newly interested in the field, here's everything you need to know about medical assisting and how to become a medical assistant.
Why Become a Medical Assistant?
Medical assisting can be a rewarding career both mentally and financially. Health care is expected to grow faster than any other industry over the coming years, in part because of a Baby Boomer population that needs more medical attention as they age.
According to the BLS, the national demand for medical assistants can be attributed to longer lifespans and an aging population. As Americans age, they demand more preventive medical services, often provided by physicians. As a result, according to the BLS, physicians will hire more assistants to perform routine administrative and clinical duties. By using more medical assistants, doctors would be able to see more patients by lightening their workload.1
Additionally, according to the BLS, an increasing number of group practices, clinics, and other healthcare facilities will also need support workers, particularly medical assistants, to complete both administrative and clinical duties. Medical assistants work mostly in primary care, a steadily growing sector of the healthcare industry.1
Train for a Career as a Medical Assistant
Carrington College focuses on small class sizes and hands-on training. Here you're more than a face in a room. Take the first step on your way to a new career in medical assisting.
What Does a Medical Assistant Do?
Medical assistants perform a number of clinical and administrative tasks in medical settings such as doctors' offices, hospitals and other healthcare facilities. Since the places medical assistants work are so varied, duties can differ greatly depending on the care setting, size of the facility, and specialty of the physicians who work there.
According to the BLS, some job activities medical assistants can be responsible for include:2
Record patient history and personal information

Measure vital signs, such as blood pressure

Help physicians with patient examinations

Give patients injections or medications as directed by physicians and as permitted by state law

Schedule patient appointments

Prepare blood samples for laboratory tests

Enter patient information into medical records
The role of a medical assistant is also evolving. As the federal government pushes for medical records to be stored electronically as EHRs, a medical assistant will likely need to adapt to electronic health record (EHR) software.
Skills for Medical Assistants
There are many different factors that can make one well suited to be a medical assistant. Some skills are personal and need to be cultivated outside a classroom, such as effective communication, organization, and empathy, while others can be taught, like how to take a blood pressure reading.
Some soft skills medical assistants need are:3
Speaking — Talking to others to convey information effectively.
Active Listening — Giving full attention to what other people are saying, taking time to understand the points being made, asking questions as appropriate, and not interrupting at inappropriate times.
Reading Comprehension — Understanding written sentences and paragraphs in work related documents.
Social Perceptiveness — Being aware of others' reactions and understanding why they react as they do.
Monitoring — Monitoring/Assessing performance of yourself, other individuals, or organizations to make improvements or take corrective action.
Critical Thinking — Using logic and reasoning to identify the strengths and weaknesses of alternative solutions, conclusions or approaches to problems.
Coordination — Adjusting actions in relation to others' actions.
Writing — Communicating effectively in writing as appropriate for the needs of the audience.
Service Orientation — Actively looking for ways to help people.
Active Learning — Understanding the implications of new information for both current and future problem-solving and decision-making.
Time Management — Managing one's own time and the time of others.
Judgment and Decision Making — Considering the relative costs and benefits of potential actions to choose the most appropriate one.
Instructing — Teaching others how to do something.
Learning Strategies — Selecting and using training/instructional methods and procedures appropriate for the situation when learning or teaching new things.
Oral Comprehension — The ability to listen to and understand information and ideas presented through spoken words and sentences.
Oral Expression — The ability to communicate information and ideas in speaking so others will understand.
Problem Sensitivity — The ability to tell when something is wrong or is likely to go wrong. It does not involve solving the problem, only recognizing there is a problem.
Written Comprehension — The ability to read and understand information and ideas presented in writing.
Deductive Reasoning — The ability to apply general rules to specific problems to produce answers that make sense.
Information Ordering — The ability to arrange things or actions in a certain order or pattern according to a specific rule or set of rules such as patterns of numbers, letters, words, pictures or mathematical operations.
Inductive Reasoning — The ability to combine pieces of information to form general rules or conclusions (includes finding a relationship among seemingly unrelated events).
Time-Sharing — The ability to shift back and forth between two or more activities or sources of information.
Where do Medical Assistants Work?
According to the BLS data for 2021, 58% of medical assistants work in physician's offices.2 The next most common employers were state, local and private hospitals (15%), outpatient care centers (8%), and chiropractors' offices (4%). But don't feel limited in where you want to work as a medical assistant.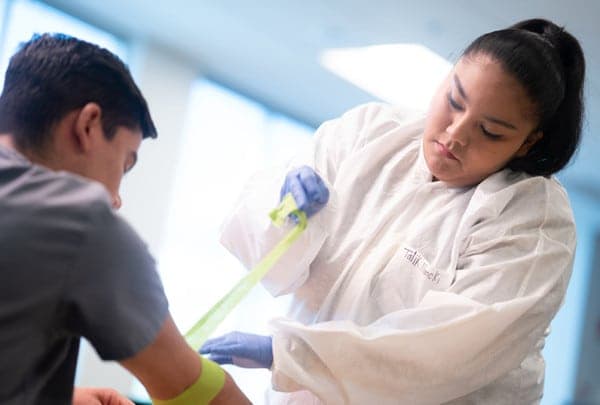 Other less common employers may include:
Colleges and universities that run their own hospitals or health centers

Medical research centers

Diagnostic laboratories

Insurance carriers

Nursing care facilities
Because medical assistants have both knowledge of some clinical skills, such as taking vitals and making injections (as directed by a physician and allowed by state law), as well as administrative duties such as talking with patients and making appointments, those with a medical assisting certificate may find they can work in nontraditional settings.
How to Become a Medical Assistant
While certain aspects of becoming a medical assistant can be regulated by state, generally there are a few ways to become one. Here are the steps to become a medical assistant.
Complete a Medical Assisting program at a community college, vocational school or technical school. Programs can take as little as one year and typically deliver a diploma or certificate. Some programs can be extended to award an associate degree.
Obtain a medical assistant certification. While most states do not require medical assistants to be certified, some employers may be more willing to hire those who are. Some agencies that certify medical assistants include:

Registered Medical Assistant (RMA) from American Medical Technologists5
Certified Clinical Medical Assistant (CCMA) from the National Healthcareer Association6

Receive on-the-job training. While it is possible to skip an education program and just receive on-the-job training, it may be beneficial to attend a Medical Assisting program. Even after an education, though, you will likely receive training in how your particular employer prefers things to be done.
How to Become a Credentialed Medical Assistant
There is typically a credentialing medical assistant exam administered by an association that can signal to employers that you meet certain standards of care. Again, some medical assistant credential exams include:
Registered Medical Assistant (RMA) from American Medical Technologists5
Certified Clinical Medical Assistant (CCMA) from the National Healthcareer Association6
Discover Your Career as a Medical Assistant
Carrington College's Medical Assisting Program offers you the hands-on training for a job in medical assisting. Take the first step on your way to a new career.
What to Look for in a Medical Assisting Program
Choosing the right school to pursue medical assisting is a big decision. The right training can open doors for better jobs and possibly salary down the line. While many institutions may offer medical assisting classes, it's important that you look for the one that fits your goals and lifestyle.
A few core things to look for when considering Medical Assisting programs include:
Small class sizes. When learning to be a medical assistant you want individual attention from your instructor.
Hands-on training. When dealing with tasks like taking blood pressure, drawing blood, or administering injections, it's important that you have time to practice those skills hands-on.
Externships or career training. Most programs include an opportunity to learn in the real world before you even graduate! You'll earn an impressive experience that looks great on your resume.
Cost. Education is a major investment, but it's an investment in your future. At Carrington College and many other institutions, we participate in most financial assistance programs, both federal and state, as well as private financing. Student loans, grants, and scholarships are available to those who qualify. For complete information on current tuition costs, please see the academic catalog.
Prepare for a Career as a  Medical Assistant With Carrington College
Carrington College is experienced in turning out highly trained medical assistants who should be ready to enter the work world. Carrington College features small class sizes, hands-on training, skills labs and faculty with real world experience. Learn more about the Carrington Medical Assisting program.
Carrington College's Medical Assisting Students and Faculty
Carrington College takes great pride in its faculty and students. Faculty are experienced in their field, most of whom have real-life familiarity working in medical facilities.
Our students come from many backgrounds but are driven to succeed. Whether you're just starting your education or you're transitioning to a new career, you'll find students like yourself at Carrington.
Medical Assistant Classes at Carrington College
MA Administration Theory 1—This course provides theory in the following areas: telephone techniques, oral communication, verbal follow-up, written follow-up, managing and maintaining the office, computers, appointments, records and filing, patient education, legal issues and biomedical ethics.
MA Clinical Applications 1—This course provides concepts and entry-level skill applications for the following procedures: vitals including height, weight and vision screening, aseptic hand washing, lab safety, microscopes, venipuncture, injections (parenteral medications), ABO/RH typing, capillary puncture, hemoglobin, hematocrit, glucose, urinalysis, audiometer and electrocardiography
Find Medical Assisting Schools Near Me
Our Medical Assisting program is available in 16 locations around the country including locations in Arizona, California, Idaho, New Mexico, Nevada, Oregon, and Washington. Find a location near you. Carrington College also offers an online Medical Assisting program.
Medical Assistant FAQ
How Long Does it Take to Become a Medical Assistant?
At Carrington, you can complete the program in as few as nine months for a certificate.
What are the duties of a medical assistant?
Medical assistants perform a variety of administrative and specific clinical duties, the latter which must be performed under a physician's direction. Some duties may include:4
Readying patients for exams
Scheduling patient appointments and tests and billing and coding
Taking and recording patient vital signs and medical histories
Administering medications under physician's orders
What education is required to be a medical assistant?
Most medical assistants have postsecondary education, such as a medical assistant certificate, according to the BLS. Other individuals working as medical assistants may begin their careers with a high school diploma and learn medical assisting skills while on the job.7
What can a nurse do that a medical assistant can't?
It is illegal to use medical assistants as a substitute for highly trained and licensed medical professionals, such as nurses. An MA's presence in a medical setting is to perform basic supportive services and to assist other medical personnel.
Medical assistants cannot perform invasive procedures on patients. Some disallowed procedures, according to the Medical Board of California include8:
Administering chemotherapy
Using lasers to remove unwanted features on a patient, such as hair or scars
Injecting collagen
Inserting urinary catheters
Starting, disconnecting IV infusion tubes or administering medications in IV lines
WE'RE HIRING AT CARRINGTON