Picture a Career in Ultrasound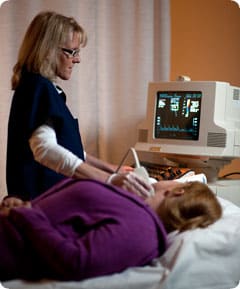 Sonography is a dynamic career choice; it's a profession that has grown significantly over the past 20 years and one that, according to the U.S Bureau of Labor Statistics, is forecast to continue to grow by about 18% over the coming years, that's faster than the average for all occupations*.
A diagnostic medical sonographer, also known as an ultrasound technologist, is a highly-skilled professional who uses specialized equipment to create images of structures inside the human body; unlike X-rays, sonography creates images without the use of radiation.  Sonography can be used to examine many parts of the body, such as the abdomen, breasts, female reproductive system, prostate, heart, and blood vessels.
A sonographer places a small device against the patient's skin near the body area to be imaged; this transducer sends a stream of high frequency sound waves into the body. These waves reflect and bounce differently off the internal structures in the body.  They are then analyzed by a computer that creates an image of the structure(s) on a television screen; physicians then use these images to assist them as they make a medical diagnosis.
A mix of classroom instruction, lab practice, and clinical field experience, the Carrington College Diagnostic Medical Sonography program is a general sonography program that can be completed in as few as 16 months; it culminates in a Certificate of Achievement in Diagnostic Medical Sonography.  Our graduates leave Carrington College with the necessary skills and knowledge to help them gain entry level employment as a medical sonographer in a variety of medical settings, including clinics, hospitals, private physician offices, public health facilities, or laboratories.
If you can picture yourself enjoying a career in sonography, you can find out more about the Diagnostic Medical Sonography certificate program, available only at our Carrington College Mesa campus, by calling Enrollment Services at Carrington College at 1.877.204.4718, or you can complete this online form.  Submit the form and we'll contact you to answer any questions you may have, and help you get started.
* Bureau of Labor Statistics, U.S. Department of Labor, Occupational Outlook Handbook (2010-11 Ed.).