4 Jobs For People Interested In Working With Animals
Do you love animals? Have you always wanted to get paid for working with animals? There are a ton of amazing animal jobs available for people who just can't get enough of those furry creatures. Whether you plan on going to veterinary technician school or want to start a small dog-walking business of your own, you'll be able to find a job doing what you love, working with animals.
Veterinary Technician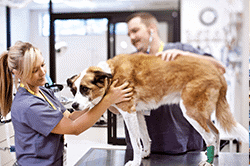 One of the most popular jobs working with animals is that of a certified veterinary technician. Veterinary technicians work under the supervision of veterinarians, combining a variety of disciplines such as nursing, imaging, lab work, and customer service. The duties of a veterinary tech typically include providing first aid and nursing care; assisting veterinarians during examinations and procedures; performing or aiding with diagnostic tests like X-rays, urinalysis and blood counts; conducting routine procedures like dental cleanings and immunizations, preparing animals for surgery, monitoring the conditions of patients.1
Moreover, as a vet tech, you will have the opportunity to work in a variety of environments like animal hospitals, animal shelters, rescue leagues, private clinics, boarding kennels, laboratories or zoos. This is an animal job that requires resilience and stamina as you will spend long periods on your feet and have to lift and restrain large animals. In addition, you must be responsible and compassionate, as your care will have a significant impact on the animal's health and quality of life. This is the perfect career for someone who loves animals and has a passion for science.
Vet Tech Salary
Veterinary technicians need to earn a two-year degree and become certified. Vet Techs earn approximately $14 per hour, or nearly $30,000 per year on average.2
Pet sitter
If you seek a job with animals, and you think running your own business sounds appealing or your just look for a job on the side, becoming a pet sitter could be a great option for you. As a pet sitter, you can determine your own hours and the amount you want to charge for your services. Pet sitting services usually include vacation care, dog walking, and dog boarding. The professional pet-sitting industry is growing as pet sitting has several advantages to the pet owner like; reduced stress while the pet is being cared for at home, no travel trauma, less exposure to illnesses and parasites, less restrictive vaccinations, and retained regular routines and environment.3
While this sounds like a great job if you love caring for animals and like working independently, you also need to be well prepared and organized. Professional pet sitters are often licensed, insured (for liability and theft), and have training in pet first aid and animal husbandry4. Even if such licenses, accreditations or certifications aren't required in your location, it's recommended to obtain them (if possible) as they ensure your client that you are qualified to care for their pet. Moreover, this job may be challenging because you will need to build up a client list and may have to work on holidays.
Pet Sitter Salary
Pay varies depending on your experience, region, and duties, among other things.
Animal trainer
Animals are instinct-driven creatures and normally live freely in the wild. Yet, if they're kept as family pets, service animals or show animals, they need to be well trained for both their own and their owner's safety. With this animal training job, you would be responsible for helping animals and their owners improve obedience or performance. Generally, the minimum educational requirement is a high school diploma or a general equivalency diploma (GED). In some cases, you need at least a bachelor's degree, say if you work with marine mammals. While many individual dog trainers are self-trained, there are certifications available, for instance from The Association of Pet Dog Trainers (APDT).5
Even though no certification is required to work as an animal trainer, you need to bring certain qualities. It's crucial that you're compassionate and patient, with both animals and their owners. The key to being a successful animal trainer is having excellent problem-solving skills. In addition, you should have good physical fitness and stamina as this can be a very activity-driven job. Typically, an animal trainer will evaluate what training the animal requires, get them used to human voice and contact, condition them to respond to commands, stimulate them mentally and exercise them physically, as well as monitor their diet.
Animal Trainers Salary
Animal trainers make approximately $12 per hour, or $25,000 per year.6
Pet groomer
Someone has to get Fluffy and Fido looking beautiful and clean, and if you'd love a job with animals, you may be just the person to do it! Pet groomers can operate out of their own homes or work in pet stores, grooming boutiques/spas, animal shelters and veterinary clinics. Aspiring pet groomers normally undergo training through apprenticeship with experienced groomers or attend a multiple-week grooming program at a state-licensed school. You may also obtain a certification from the National Dog Groomers Association of America.7
The duties of a pet groomer include brushing and trimming the animal's fur, cutting its nails, cleaning its ears, bathing and blow-drying its fur. In addition, pet groomers also answer phones and schedule appointments, advise owners regarding their pet's grooming needs, as well as record information about the animal's disposition.
Pet Groomer Salary
While salary strongly depends on job duties and location, the median hourly wage for nonfarm animal caretakers, which includes pet groomers, is $9.51 (median annual wage is $19,780).8
Bonus Job: Veterinary Assistant
If you wish to improve the health and well-being of animals, but a science-heavy profession like veterinary technician doesn't appeal to you, veterinary assistant might be the perfect career for you. Veterinary assistants work in animal hospitals/clinics and research laboratories under the supervision of a veterinarian, scientist or veterinary technician. They clean and disinfect animal cages, as well as sterilize surgical equipment and provide post-operative care. Other duties encompass feeding and weighing animals; collecting blood, urine and tissue samples for testing; and administering oral and topical medications. Furthermore, veterinary assistants manage records and assist clients on phone and in person.
Most veterinary assistants have a high school diploma or a general equivalency diploma (GED) and you can obtain a certificate through a veterinary assistant program. While certification is not always required, employers do prefer to hire veterinary assistants who have undergone a training program. Such training consists mainly of animal care and front desk administrative tasks. Moreover, it usually includes educational coursework, hands-on training with veterinarians and veterinary technicians, and a final exam. As a veterinary assistant, you should be compassionate, patient, and have good physical stamina. Great people skills are also a plus, as you will often encounter distressed and concerned animal owners.9
Veterinary Assistant Salary
Median hourly wage for this job working with animals is $10.60, while median annual wage for vet assistants is $22,040 (in 2010).10
---
1 http://www.innerbody.com/careers-in-health/how-to-become-a-vet-tech.html
2 http://www.bls.gov/ooh/healthcare/veterinary-technologists-and-technicians.htm
3 http://www.humanesociety.org/animals/resources/tips/choosing_pet_sitter.html
4 http://petsits.com/insurance.htm
5 http://www.apdt.com/trainers/career/
6 http://www.bls.gov/ooh/Personal-Care-and-Service/Animal-care-and-service-workers.htm
7 http://www.nationaldoggroomers.com/
8 http://www.bls.gov/ooh/Personal-Care-and-Service/Animal-care-and-service-workers.htm
9 http://www.innerbody.com/careers-in-health/how-to-become-a-veterinary-assistant.html
10 http://www.bls.gov/ooh/healthcare/veterinary-assistants-and-laboratory-animal-caretakers.htm