Dentistry is a branch of medicine that is concerned with the study, diagnosis, prevention and treatment of diseases, disorders and conditions of the oral cavity, the maxillofacial area and the adjacent and associated structures. Essentially, dentistry is directed at oral care and dental health maintenance. The field of dentistry offers various career options at multiple educational and professional levels. The physicians who practice dentistry are known as dentists, while their supporting team consists of dental assistants, Registered Dental Assistants, dental hygienists and dental technicians. Other types of dental jobs include dental laboratory technician and administrative office staff. Below is a more detailed overview of several career opportunities in the field of dentistry.
Mid-Level
Dental Assistants
Dental assistants help dentists with various tasks like sterilizing instruments and equipment, taking and developing dental x-rays, taking impressions of patients' teeth, and scheduling appointments. Furthermore, they prepare and guide patients throughout their procedures. There are several possible paths to becoming a dental assistant. In most states, what you have to do to be a dental assistant or Registered Dental Assistant is to graduate from an accredited program and pass a state exam. In other states, there are no formal educational requirements. Dental assistant is a good career choice because the demand for these dental field jobs is continuously rising.
Dental Hygienists
There are a few other mid-level careers in the dental field, such as dental hygienist. A dental hygienist has more responsibilities than a dental assistant. The duties of a dental hygienist include cleaning teeth, examining patients for signs of oral diseases like gingivitis, and provide other preventative dental care under the supervision of a dentist. Moreover, they also educate patients on ways to improve and maintain good oral health. Dental hygienists typically need an associate degree in dental hygiene. While all states require dental hygienists to be licensed, requirements vary by state. 
Recommended Reading: Pros and Cons of Being A Dental Hygienists
Dental Laboratory Technicians
Dental laboratory technicians1 or simply dental technicians is a further mid-level dental career you may pursue. These professionals manufacture dental prosthetics, such as bridges, crowns and dentures according to the specification sent by the dentist. There are four major disciplines in dental technology: fixed prosthesis, removable prosthesis, maxillofacial prosthesis, and orthodontics and auxiliaries. While there is no specific educational requirement to become a dental laboratory technician and many learn their skills on the job, aspiring professionals may also receive training from community colleges or vocational-technical schools.
Administrative
Office Manager
There are also administrative dentist jobs. The office manager oversees the daily operations of the dental office. They manage staff schedules, train office staff, assess staff performance, oversee finances, monitor inventory and order supplies, among other things. The office manager essentially ensures that the dental office runs smoothly, so that the dentist and their staff can focus on patient care. There are no formal educational requirements for the office manager, although employers usually demand a high school diploma/GED and a minimum of medical/dental office experience.
Office Staff
The staff in a dental office assumes numerous administrative roles, including receptionists, appointment schedulers, and accounting and billing specialists. They also provide paperwork for new patients and are responsible for filing and retrieving patient information. There are no specific educational requirements to work as a staff member in a dental office, yet some schools offer, for example, dental receptionist certificates or training programs.
Doctorate Level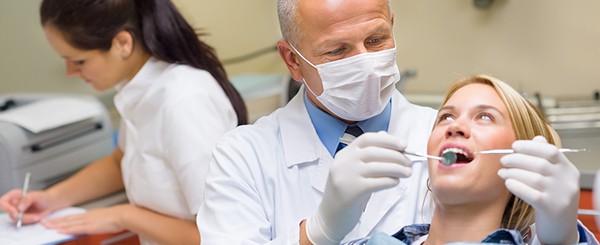 General Dentist (DDS)
The position of a general dentist2 is comparable to that of a primary care doctor in medicine. The general dentist usually performs dental and oral health care prevention and maintenance services like teeth cleaning, fluoride treatments, cavity fillings and root canals. In some instances, the general dentist may also treat diseases of nerve, pulp and other dental tissues affecting oral hygiene and retention of teeth. In order to become a dentist, one has to complete dental school and obtain a license.
Orthodontist
Orthodontists specialize on jaw alignment and positioning of the teeth. They use different methods and oral appliances to straighten and realign crooked or misaligned teeth. Braces, retainers and other devices are used to help correct patient's teeth. Whereas most patients of orthodontists are younger as they are growing and their teeth are easier to move, adult patients do consult an orthodontist, too. An orthodontist has to complete dental school and go through two or three years of advanced specialty education.
Periodontist
A periodontist is a dentist who specializes in the care of the supporting structures of teeth that are known as periodontium, such as gums, the alveolar bone and periodontal ligament. Periontal diseases are usually a result of bacterial accumulation and inflammation. To become a periodontist, one has to complete dental school and obtain a postdoctoral certificate (three years or more).
Oral and Maxillofacial Surgeon
An oral and maxillofacial surgeon provides surgical care for teeth, jaws and facial bones. Some surgeons also specialize in microvascular reconstruction (after neck and head cancer), craniofacial surgery and pediatric maxillofacial surgery (e.g., cleft lip and palate repair) or cranio-maxillofacial trauma treatment. To become an oral and maxillofacial surgeon, one hast to complete a minimum of four years in a hospital-based residency program upon graduation from dental school.
Cosmetic Dentist
The cosmetic dentist focuses on aesthetic dentistry, which is aimed at improving the appearance rather than the patients' health. They normally treat aesthetic issues surrounding a patient's teeth, gums and/or bite. Common cosmetic dentistry procedures include teeth, veneers or the bonding of teeth. Cosmetic dentists normally practice as general dentists. It is important to note that the American Dental Association does not recognize cosmetic dentistry as a formal specialty of dentistry.
Additional Sources:
1 – http://www.bls.gov/ooh/production/dental-and-ophthalmic-laboratory-technicians-and-medical-appliance-technicians.htm
2 – http://www.bls.gov/ooh/Healthcare/Dentists.htm
http://www.bls.gov/ooh/Healthcare/Dental-assistants.htm
http://www.bls.gov/ooh/healthcare/dental-hygienists.htm
http://www.snagajob.com/job-descriptions/dental-office-manager-job-description